Season 2: QF 5-a-side Indoor Football League (Futsal) Soccer (Indoor) · Male Recreational
Mon
Tue
WedThuFriSat
Sun
7:00pm to 10:00pm
Round Robin/Playoffs
This is a fee-based league. The "FREE" indicated next to Team or Individual Fee is reflective of the Free Registration on the Recreation Services Online Registration System.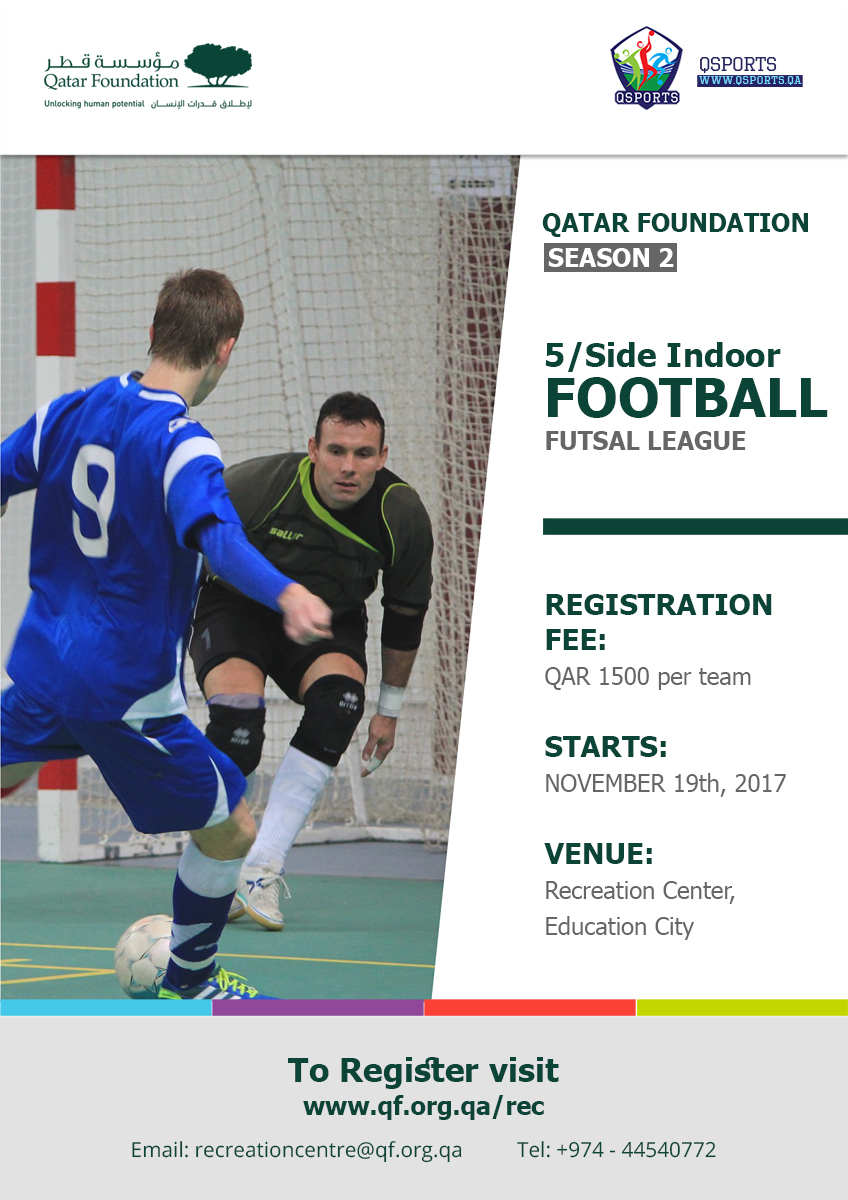 | | |
| --- | --- |
| Competition Title | Season 2: 5-a-side Outdoor Football League |
| Sponsor | Qatar Foundation |
| Fees | QAR 1500QR/team for the complete season. |
| Prizes | Playoffs Winners First Prize: 2000QR/ |
| Days | The league will be played on Sunday and Tuesday |
| Venue | Qatar Foundation Recreation Center MPH |
| Notice: | All payments must be submitted at least one week prior to competition start date. Payments can be made by credit card at QF front office. This league requires a minimum of 8 teams to proceed as scheduled. Should the number of teams be less than 8, registered teams will be invited for next season that starts in March 2017. |
| Contact | Lucian Moldovan +974 4017-6791 |
5-a-side INDOOR LEAGUE RULES & REGULATIONS
Team Structure
5 aside (4 outfield players and 1 goalkeeper)
5 substitutes
10 players assigned to each team (Teams may register up to 12 players, but only 10 are allowed to participate on any game day)
All players must be registered by completing the necessary forms prior to competing for any team.
No additional players can be allocated to a team once 12 individuals have been registered to a team. Exceptions will be handled on a case by case basis.
A maximum of 10 players per game may be used. All players must be named on the team sheet prior to kick off.
Any team playing an unregistered player will automatically lose the match 5 0 and be awarded zero points.
League Structure (subject to change)
The league will comprise of a minimum of 10 Teams and maximum of 24 teams divided into 6-8 teams per group. Team will be placed in groups through a tournament draw--to be held at the Captain's meeting.
Each team will play a minimum of 7 games during the course of the league season.
Each team plays one match per week at the times specified.
Teams are asked to ensure that all players arrive 15 minutes prior to their scheduled kick off times.
Playoffs -If there are 2 groups of 8 teams first 2 from each group will proceed to playoffs. If there are 3 groups of 8 teams, then top 2 teams from each group plus TWO 2nd best teams between all the groups will proceed to the playoffs. If there are 4 groups of 8 teams, then top 2 teams from each group will proceed to the knockout stages.
NOTE: Game Schedules once published, cannot be changed as this disrupts the league schedules and incurs a direct cost to QSports.
League Points
3 points awarded per win
1 points for draw
0 points for loss
For and Against Goals will be recorded
League placings will be decided by points gained, followed by goal difference, followed by goals scored, followed by the aggregate result between the two teams in question.
Failure for a team to show equals a game forfeit and automatic loss of 5-0 and zero points awarded.
A team can only take to the field if a minimum of 4 players registered for that team are available to play.
If a team fails to field sufficient players for 3 games they will be suspended from the league and forfeit all payments to Q-Sports.
A full fixture list of game dates and times will be issued prior to the start of the season.
Game Structure
Each game will last a total of 30 minutes (divided into 2 equal halves of 15 minutes). There will be no time additions for injury or additional time. The clock will not stop when the ball is out of play.)
1 minute (halftime)
5 minute (break between games)
Game Rules
Standard 5 a-side rules will apply to all games subject to the following rules
The off side rule will not be applied.
Charging/sliding tackles are forbidden. If one is committed in the course of a game the opposition team will be rewarded a direct free kick. Slide tackles made by a field player in the goal area result in a penalty kick.
No screw in studded footwear or blades is permitted to be worn by any player. Only training shoes, molded soles and astro boots may be worn.
All Players must wear shin pads.
The wearing of any form of jewelry (including, without limitation, watches) is not permitted during play.
The first half will begin with one team taking a centre; the second half will begin with the other team taking a centre.
When a goal has been scored the game will be re-started by the team who conceded the goal taking a centre.
All players are allowed to play the ball inside the goal area. All kicks are direct. Throw-ins are kicks(you can't score directly from the throw-in if nobody touches the ball before it enters in goal)
A goalkeeper is not permitted to leave his/her goal area. In the event they do the opposition team will be awarded a direct free kick from the penalty point.
The goalkeeper must return the ball into play by rolling it out of his area with an under-arm or kicking action. The ball must be put in play in no more than 5 seconds. If the ball is put in play after the five second (seconds will be counted by the referee) the opposition team will take the possession of the ball by a direct free kick. If goalkeeper put the ball in play after 5 seconds the opposition team will have a free kick by the top of the box.
Opposition players must be at least three meters from where any free-kick is taken.
Goal keeper must be on the goal line when a penalty is being taken. Players may only take one step whilst taking a penalty
Number of Players per Team and Substitutes.
Each game will be played by two (2) teams with 5 players on field during a game.
Fielding more than 5 players at any time during the game will result in an automatic Yellow Card (Warning) to the team captain fielding the extra player.
2nd violation will result in a RED card and team captain must sit on the bench for the rest of the game.
One (1) player from each team will be the goalkeeper (who must wear distinguishing colors).
4 players on the field as players with 1 goalkeeper.
Total of 5 players during a game on field with 5 substitutes.Unlimited rolling substitutes will be permitted.
The number of rolling substitutions is unlimited except in the case of the goalkeeper (see below)A player who has been replaced may return to the playing area as a substitute for another player.
A rolling substitution is one which is made when the ball is still in play and is subject to the following conditions:The player leaving the playing area shall do so from the sideline crossing over at the substitution area.
The player entering the playing area shall do so from the substitution area but not until the player leaving the playing area has passed completely over the sideline.
Any of the other players may change places with the goalkeeper, provided that the referee and/or opposition team is informed before the change is made, and provided also that the change is made during a stoppage in the game.
HOW TO REGISTER:
To register a team, the team captain will register as a team captain and invite his players to join his team by sending an email invite through his account.
Team players will register as team players and select their team from the list when prompted.
All Users must complete the mandatory registration information on their profile. Incomplete profiles are automatically deleted and the player will not be able to play in the league.

Free agents are players who do not have any team. They may register as free agents and QSport

s will do its best to place them in a team.