At Capacity
Season 2: QF Men's Basketball League (Non-Rated) Basketball · Male Intermediate
Sold Out
MonTueWedThuFriSatSun 9:00am to 10:00pm
Team Fees

Free
Free Agent Fees

Free
This is a fee-based tournament. The "FREE" indicated next to Team or Individual Fee is reflective of the Free Registration on the Recreation Services Online Registration System.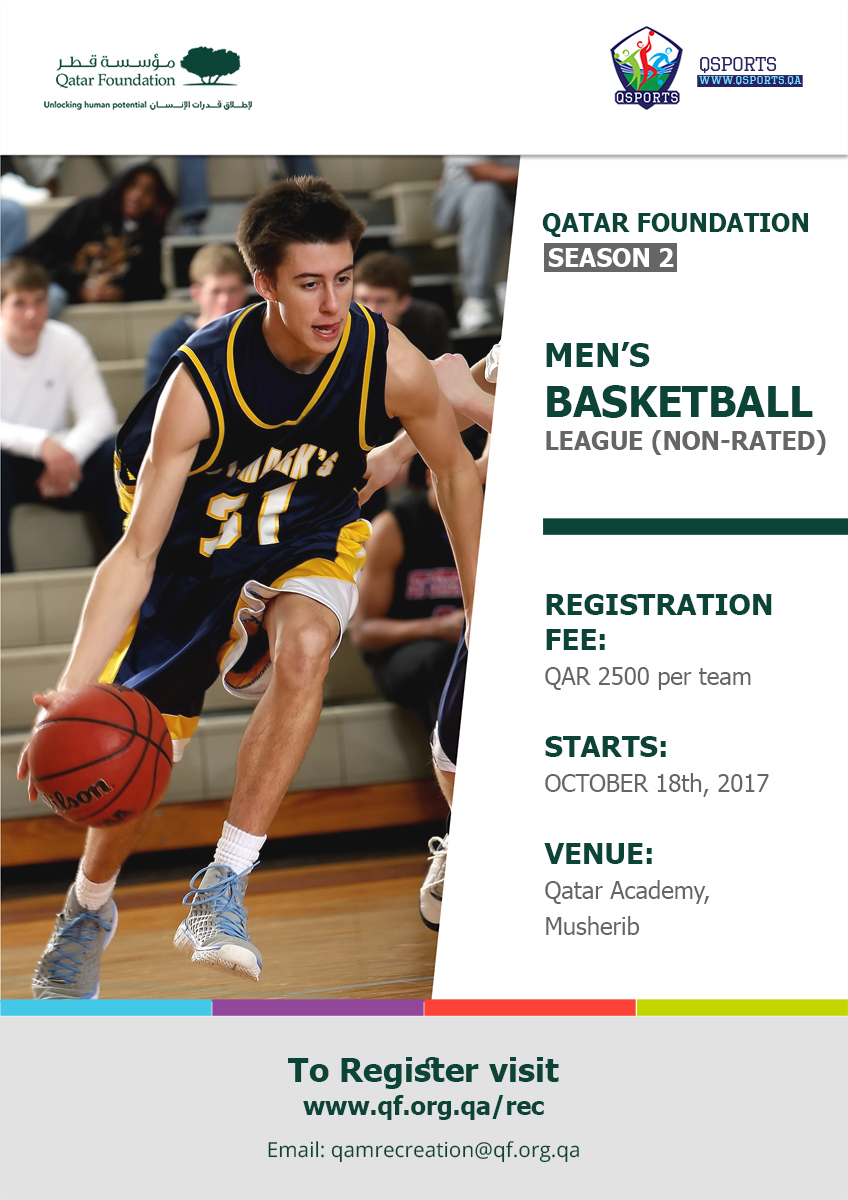 Competition Title

Season 2: QF Men's Basketball League (Non-Rated Division)


Sponsor

Qatar Foundation


Fees

QR 2,500 Team Registration Fee

Prizes

1st place: QR 3,000




Runner up

:

Voucher




Days

Wednesdays: 7:00 pm to 10:00 pm / Fridays: 9:00 am to 2:00 pm




Venue

Qatar Academy - Musheirib


Notice

All payments must be submitted at least one week prior to competition start date. Payments can be made by credit card at QF front office. If paying in cash, please make arrangements with the tournament coordinator. No professional players allowed.


Contact

Miroslav Zlatkovic - 4017 6791 / 50233779

Profile

The

QF Men's Basketball League (Non-Rated)

Season 2

lasts for two months, depending on number of teams registered. Whilst the format may vary, teams play each other once in a regular season, with top teams qualifying for playoffs (quarter or semi- final, and finals).
Players General Meeting

All coaches or a representative of the team are required to attend a MANDATORY coaches and captains meeting in which the date is to be announced.

Complete House Rules will be given to each team upon completing the team registration fees.
Player Discipline and Unsporting Behaviour

Unsporting behavior is unacceptable. Dangerous or dirty play, verbal abuse, racism, and fighting are grounds for ejection from the league. Abuse of or aggressive behavior towards referees will result in expulsion from league

Cursing in the direction of a referee is an automatic technical foul. A second incident WILL result in ejection from game. Ejected players MUST leave the gym before the game will continue.

A player ejected during a game will also serve an automatic one-game suspension for the next scheduled team game.

Jewelry (big rings, necklaces, bracelets, etc.) needs to be removed or taped (covered) before playing.

Game Rules are not exhaustive and may be added to or amended at any time
Player Eligibility for the League
The non-rated division is an amateur fun league, played in a competitive environment. The tournament is not open to players who are registered with a Senior Club in the Qatar Basketball Federation (QBF), or considered as GCC rated player (although one rated player will be allowed per team) in Qatar and with the height of above 6â??1 feet. We will allow only one player per game in each team with the maximum height of 6â??5 feet. Also, if a player has played professional basketball in the last 3 years overseas, he is not eligible to play. Exceptions may be considered on case-by-case basis.
Other Information

All players must sign an indemnity waiver before the start of the tournament.

No change in schedule is allowed once tournament schedule has been published unless in exceptional circumstances.
HOW TO REGISTER

To register a team, a player from each team must register as a Team Captain. This provides him with admin rights, and he can invite his team mates to join his team by sending an email invite through his account. Invited players will register as Team Players and select their team from the list when prompted. Existing team captain/players do NOT have to create a NEW account. They can use their existing username and register for the league. Email address can also be used to log in instead of the username.

All players MUST complete the mandatory registration information on their profile. Incomplete profiles are automatically deleted and the player will not be able to play in the league.

Free agents are players who do not have any team. They may register as free agents and organizers will do its best to place them in a team.